Thursday, December 18th 2014.
Theremins For Sale
Gear Musician offers a full line of theremins for sale online as well as amp heads and cabinets by the major manufacturers in the industry such as ampeg, crate, eden, hartke, swr, peavey, fender, gallien kruger and more.
389.00
389.00

Moog Etherwave Theremin Standard Ash
"The Theremin is one of the oldest electronic instruments, and the only one that you play without touching it. Moving your hands in the space around its antennas controls pitch and volume. Like the Ethervox, the Etherwave is an authentic adaptation of inv

MORE...


339.00
339.00

Moog Etherwave Build-Your-Own Theremin Kit
"This Moog theramin kit comes with everything you need to make a theramin. With the unfinished wood cabinet and prebuilt circuit board, you'll build a theramin. Several wiring points require soldering. Power supply is included.One of the oldest electronic

MORE...


499.00
499.00

Moog Etherwave Plus Theremin
"The Etherwave Plus from Moog extends the legendary Theremin's gestural playing technique to the world of analog synthesis and beyond. Control synthesizers and effects while playing the Etherwave Plus Theremin or use as a standalone CV (Control Voltage) c

MORE...


3550.00
3550.00



Gretsch Guitars G6136lbp Brian Setzer Black Phoenix Guitar
"Designed and built to Brian's demanding specs, its visual magic comes from an ebony fretboard and gloss black nitrocellulose lacquer with silver trim. Arched laminated maple top with 1959 trestle bracing, laminated maple back and sides, bold Bigsby, and

More Fender Electric Guitars
---
1199.99
1199.99


Yamaha Moxf6 61-Key Semi-Weighted Synth
"The keyboardThe Yamaha Motif is among the most respected keyboards of the current century. Through its many reincarnations, it has always been among the most revered instruments in professional stage and studio keyboard performance. The Yamaha MOXF6 is t

More Synthesizers And Workstations
---
499.99
499.99


Marshall Dsl5c 5W 1X10 Tube Guitar Combo W/ Celestion Ten-30 Black
Save BIG when you buy today!

More Guitar Amplifiers
---
999.99
999.99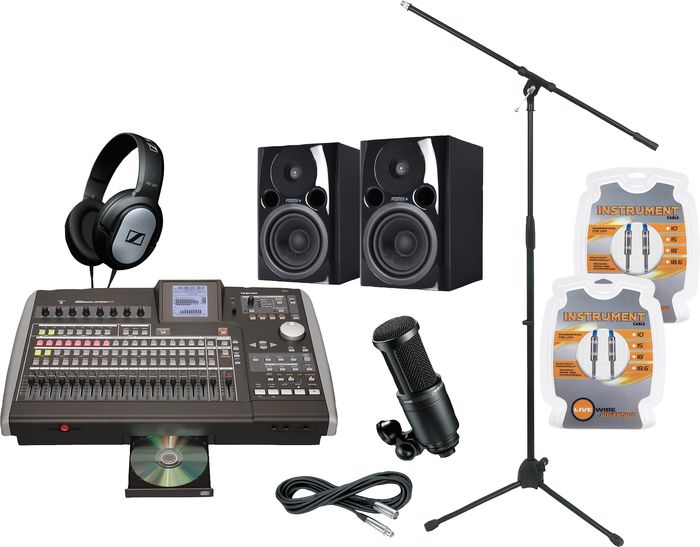 Tascam Tascam 2488 Neo Recording Package
"The TASCAM 2488neo Recording Package includes the TASCAM 2488neo 24-Track Digital Recording Workstation, Fostex PM0.4n Powered Studio Monitors, Audio-Technica AT2020 Large Diaphragm Condenser Microphone, Sennheiser HD201 Pro Closed Back Headphones, MS-22

More Recorders
---