Monday, July 22nd 2019.
Guitar Books | Videos | DVDs
Gear Musician has a full compliment of guitar books, videos, for sale, cases, gig bags for your axe or your collection of various guitars. Hardshell cases as well as padded gig bags are available for sale at our online store.
1 [2] [3] [4] [5] [6] [7] [8] [9] [10] [11] [12] [13] [14] [15] [16] [17] [18] [19] [20] [21] [22] [23] [24] [25] [26] [27] [28] [29] [30] [31] [32] [33] [34] [35] [36] [37] [38] [39] [40] [41] [42] [43] [44] [45] [46] [47] [48] [49] [50] [51] [52] [53] [54] [55] [56] [57] [58] [59] [60] [61] [62] [63] [64] [65] [66] [67] [68] [69] [70] [71] [72] [73] [74] [75] [76] [77] [78] [79] [80] [81] [82] [83] [84] [85] [86] [87] [88] [89] [90] [next]
19.99
19.99

Hal Leonard Blues Guitar Advanced Featuring John Mccarthy
"This instruction, featuring guitarist John McCarthy will propel you to the most advanced stages of Blues Guitar. Learn the talk back effect, expansion on a main theme and how to fuse Jazz into Blues music. Master lead techniques such as rakes, pick and f

MORE...


19.99
19.99

Hal Leonard Blues Guitar Intermediate Featuring John Mccarthy
"Building on the techniques learned in the beginner DVD, in this Intermediate tutorial with renowned guitarist John McCarthy you will learn vital blues skills like vibrato, slides, string skipping, dead strums and more. John's lessons cover how to play fu

MORE...


19.99
19.99

Hal Leonard Blues Guitar Beginner Featuring John Mccarthy Dvd
"Blues are the foundation of virtually every major American music form born in the 20th century. In this comprehensive instructional program designed by renowned guitarist John McCarthy, you will develop an understanding of guitar basics and a solid found

MORE...


9.95
9.95

Hal Leonard Left-Handed Guitar Book
"Finally, a guitar method solely for south paws! The comprehensive guitar lessons in the Left-Handed Guitar Book cover chords, scales, riffs and strumming; rock, blues, fingerpicking and other styles; tuning, theory and other fundamentals; reading standar

MORE...


29.95
29.95

Homespun Learning To Flatpick Dvd 2 - Building Bluegrass Technique (Dvd)
"Building Bluegrass Technique is volume two of the three-part Learning to Flatpick DVD series. In Building Bluegrass Technique, Steve Kaufman covers use of the capo, how to play up and down the guitar neck, chord back-ups, bass runs, damping, slides, subs

MORE...


9.95
9.95

Hal Leonard Don't Fret Note Map For Lefties Book
"Left-handed guitarists rejoice! Now there's a Don't Fret Note Map(TM) made just for you! This innovative instructional product created by 11-year-old Nicholas Ravagni and featured on ABC's World News Tonight makes it easier to learn to play electric or a

MORE...


31.99
28.88

Carl Fischer The Exercise Book For Guitar
"This volume is the most extensive, thorough, and exhaustive compendium of exercises for the guitar ever published. Adam Kadmon has placed the entire foundation of dexterity and physical technique in this one book. This tome is the essential collection of

MORE...


39.95
39.95

Homespun Early Southern Guitar Styles (2 Dvd Set)
"In Early Southern Guitar Styles, Mike Seeger-arguably one of our nation's most knowledgeable performers of American traditional music-teaches a wide variety of guitar techniques that were played in the rural South from about 1850 to 1930. His lessons cov

MORE...


24.95
24.95

Mjs Music Publications Total Scales Techniques And Applications - Bass (Book/Cd)
"Recommended for any bassist regardless of playing level or musical taste. It starts with all the basics a beginner needs to know, and moves progressively through advanced and professional level techniques and applications. It is a scale encyclopedia, but

MORE...


29.95
29.95

Homespun Hooked On The Blues - Dynamic Guitar Techniques (Dvd)
"Blues fans worldwide have embraced the soulful music from the Mississippi Delta, and few play it better than Dutch guitarist/singer/songwriter Hans Theessink. Hans' passion for the blues is clear as he teaches the tunings, chord shapes, slide work, and o

MORE...


34.99
34.99

Hal Leonard John 5 - The Devil Knows My Name Dvd
"In this first-ever DVD from John 5 you will not only take a journey into his twisted mind, but you will also learn some of the techniques that have set him apart from guitar players everywhere. Included here are full live performances of four songs as we

MORE...


29.95
29.95

Homespun Learning To Flatpick Dvd 3 - Developing Speed And Style (Dvd)
"In Developing Speed and Style, Volume 3 of the three part Learning To Flatpick DVD series, you move beyond the basics into the finer points of flatpick guitar style with lessons that focus on speed building and the essential elements of flatpicking style

MORE...


29.95
29.95

Homespun The Legendary Blues Guitar Of Josh White (Dvd)
"The legendary Josh White is widely considered to be one of the most influential blues and folk artists of all time. Josh White, Jr. can replicate his father's dazzling guitar technique and passionate renditions of blues, folk songs and ballads in lessons

MORE...


7.99
7.99

Hal Leonard Bass Arpeggio Finder By Chad Johnson Book
"Learn to play arpeggios on the bass with this comprehensive yet easy-to-use book, a supplement to the Hal Leonard Bass Method or any other bass method. The Bass Arpeggio Finder by Chad Johnson contains more than 1,300 arpeggio shapes, covering 28 differe

MORE...


39.95
39.95

Homespun Happy Traum Teachesthe Blues Guitar Of Brownie Mcghee (2 Dvd Set)
"Brownie McGhee's blues guitar influenced generations of players around the world. Happy Traum learned directly from this master bluesman, and in Happy Traum Teaches the Blues Guitar of Brownie McGhee DVD, his guitar lessons make Brownie's songs and playi

MORE...


1 [2] [3] [4] [5] [6] [7] [8] [9] [10] [11] [12] [13] [14] [15] [16] [17] [18] [19] [20] [21] [22] [23] [24] [25] [26] [27] [28] [29] [30] [31] [32] [33] [34] [35] [36] [37] [38] [39] [40] [41] [42] [43] [44] [45] [46] [47] [48] [49] [50] [51] [52] [53] [54] [55] [56] [57] [58] [59] [60] [61] [62] [63] [64] [65] [66] [67] [68] [69] [70] [71] [72] [73] [74] [75] [76] [77] [78] [79] [80] [81] [82] [83] [84] [85] [86] [87] [88] [89] [90] [next]

Only $14.49
CLICK HERE


---

Only $12.99
CLICK HERE


---

Only $84.99
CLICK HERE
---
1050.00
749.99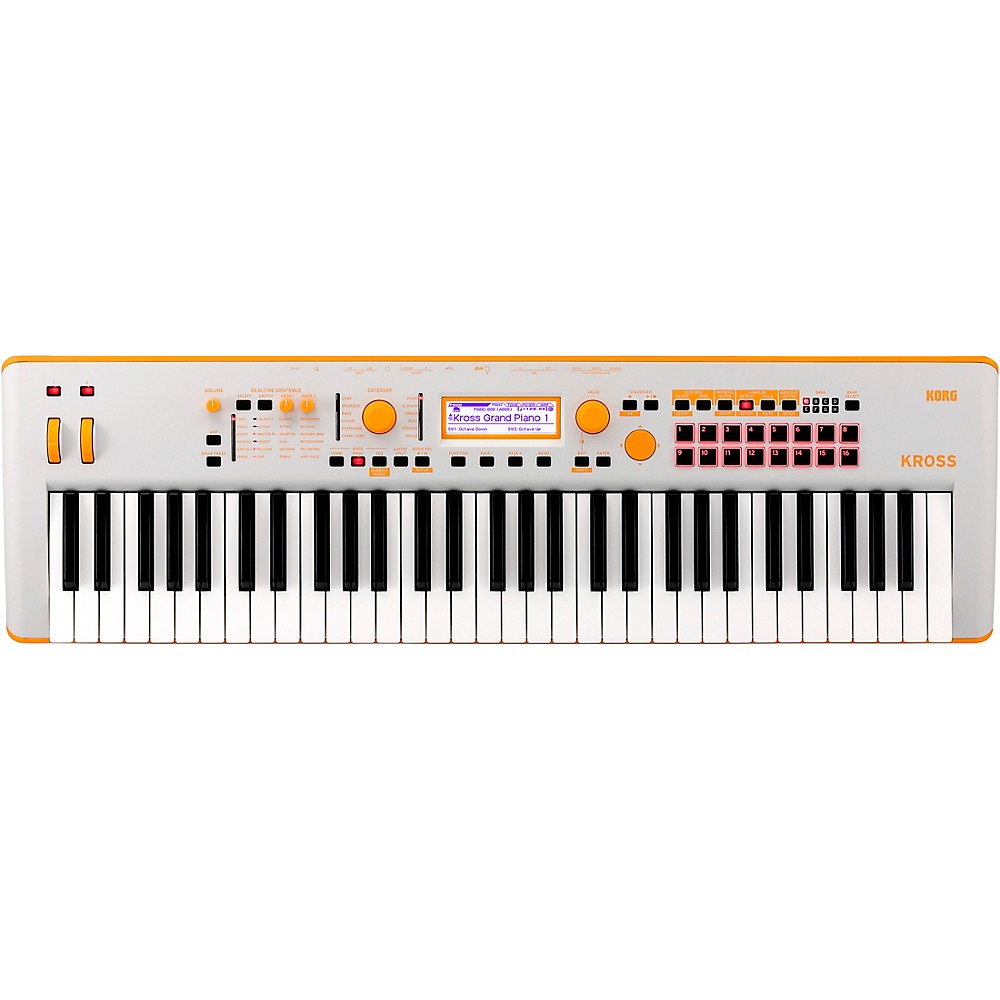 Korg Kross 2 Limited Edition 61-Key Workstation Orange
"KROSS 2, the long-awaited successor of the KROSS, is a compact, portable workstation with a huge range of sounds. It has already landed with a huge splash, but is now available with a splash of color. All of the functionality, all of the control, all of

More Synthesizers And Workstations
---
3479.00
2699.00


Koch The Greg Greg Koch Signature 50W 2X10 Tube Guitar Combo Amp Blue
"The Greg 50W tube guitar combo is the Greg Koch signature guitar amp from Koch. It's the result of a year-long collaboration between Koch Amps and the legendary guitar-slinger. The Greg is a 50 watt, three-channel, all-tube 2x10 combo featuring six 12AX7

More Guitar Amplifiers
---